New Trans Bands Installed
Submitted by

admin

on Sun, 01/08/2012 - 20:03
So it's been a while since the last update. And I wish that I had a much bigger, Flasher update to make up for lost time.... But I don't. Truth is that with the Holidays, Work, and other responsibilities (other folks busted wrecks) We've not had as much in the garage as we had hoped. We are also to the point where lots of things need to be painted now! problem is we live in Ohio, and it's winter here so they tell me. The temps have been crazy warm for winter, but still low for paint. With the garage only heated by "portable" propane heaters, it takes a bit longer. With that said here we go with the real update.
Once we cleaned all the old gunk off the Diff parts we found a minor issue.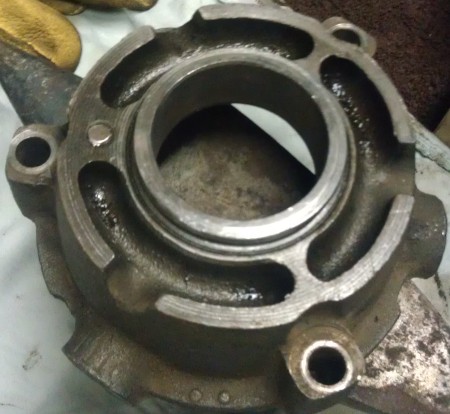 Can you spot the Problem? If you said the pin that holds the thrust washers is sheared flush your Right! Good thing is this car was not run much like this. All the castings and axles are free of the grooves worn in them you typically see when this happens! Replacement pins have been ordered and will get installed once we get everything ready to reassemble.
We also started taking steps to get the motor ready to start for the first time! We Relined the Transmission bands.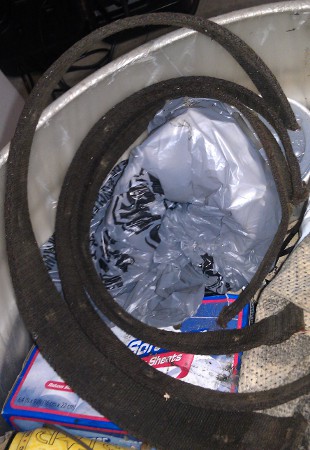 The old bands looked like they were in ok shape. But they are cotton and have been submerged in some nasty old oil and water type sludge for more years the we feel is safe. So into the trash they go.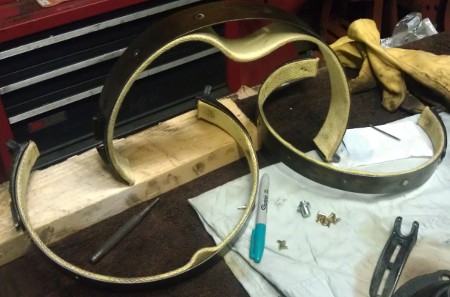 The new Kevlar bands were riveted to the bands ends first. this leaves a little bubble of material in the middle of the band.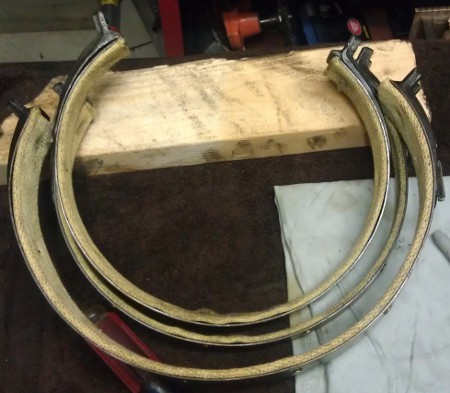 The bubble gets worked out and the last rivet gets installed.
We did make a few mistakes with the rivets, so additional rivets have to be ordered and installed before The bands can be installed on the drums.
Another great find when we tore open the rearend was that the original Hyatt bearings were in great shape! so we'll be reusing them (this also means that I have 4 brand new bearings that I'm looking to sell )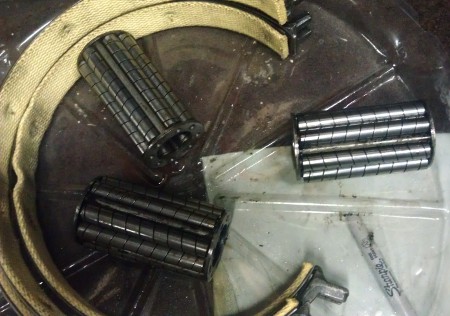 A while back your remember that we were trying to Sand blast some Model A rims to use on this Project.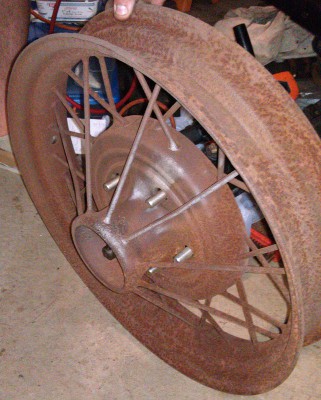 Well after using 150+ Lbs of sand and only getting 1/3 of one wheel sorta gray. We gave up. The Wheels went to a local sand blaster / painter that does heavy equipment. They spent sometime with a BIG sand blast unit and BIG pile of sand. Also they came back nice heavy, industrial sealer primer.. in black of course.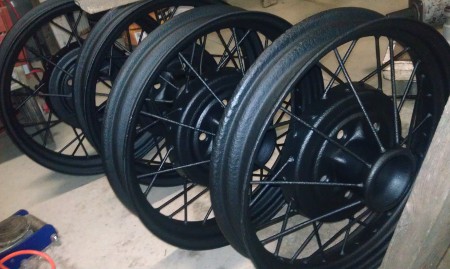 The Wheels are not perfect but are already for some paint and rubber.
That folks is where we're at. The hope is that sometime in the near future we'll be able to fire the engine up for the first time (there will be video, good or bad), and get a rolling Chassis. We can then dial in the final stance and start the body work.
Thanks for stopping by...
Bruce